Mosquitoes are the deadliest animals in the world because of the diseases they spread. The Zika virus disease may spread through mosquito bites in some states later this spring and summer.  A female mosquito infected with Zika can continue biting people over its lifespan of about 30 days. The latest CDC Vital Signs report provides timely information about Zika, including prevention and transmission.
In past outbreaks, most people infected with Zika have not gotten sick. So, people may not even know they are infected. The greatest risk is to a pregnant woman's fetus. If a pregnant woman is infected with Zika, she can pass the virus to her fetus. Zika has been linked to microcephaly, a serious birth defect that results in the baby being born with a smaller brain, which can lead to medical problems and impaired development.
Zika can also be passed from an infected man during sex. The man gets infected by a mosquito bite and spreads it to his partner through unprotected sex.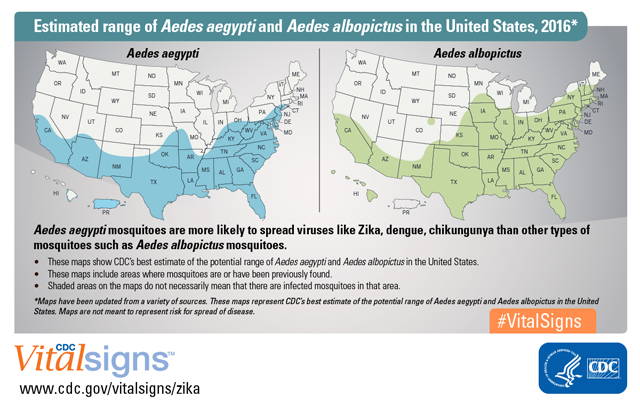 To protect the pregnancy, couples can take these steps:
Check

CDC travel guidance

.
Pregnant women should avoid traveling to any area with Zika.
Talk to her doctor or health care provider before traveling to an area with Zika.
Prevent mosquito bites by using an EPA-registered insect repellent that is safe to use during pregnancy.
If the male partner has been to an area with Zika during the pregnancy, use latex condoms the right way every time or choose not to have any type of sex.
In response to the threat of Zika, the federal government is working with states and international partners to:
Research mosquitoes and the link between Zika, microcephaly, and other adverse health outcomes.
Accelerate development of a vaccine and improved diagnostic tests and mosquito-control tools.
Improve laboratory testing for Zika by making testing available through CDC and helping states build capacity to test.
The federal government is also working with Congress to secure support for Zika efforts domestically and internationally.